More than a week ago, the 2.1 million grant on behalf of SNN and the municipality of Groningen was handed over to the Open Diagnostics Ecosystem. The first project in which the ecosystem will come into effect is now also known. The company Detact Diagnostics is developing a medical technology to detect bacteria in the human body during joint replacement operations. "Within the Open Diagnostics Ecosystem, we hope to accelerate our own Research & Development (R&D) and, moreover, to make more use of all the knowledge available in the region," explains Wouter van Gammeren, CFO Detact Diagnostics.
The right treatment
Detact Diagnostics' newly developed technology should be able to quickly detect bacteria after joint replacement surgery. Van Gammeren explains: "Consider, for example, hip surgery, where it may happen that an infection is present during the operation or recovery. If this is not detected in time, it can lead to a new hip replacement operation. This is of course very inconvenient for the patient. However, detecting that infection is not that easy. After hip surgery, the hip is often red, thick, warm and irritated. This can be due to intensive surgery (inflammation) or an infection. An infection and inflammation have almost the same physical characteristics, but must be treated in a completely different way. In case of infection it is important to administer antibiotics as soon as possible, while this is not necessary in case of inflammation. It is not desirable to administer antibiotics unnecessarily, but it is even more harmful not to administer antibiotics when they are needed. The correct treatment can be initiated by detecting bacteria ".
Detact Diagnostics wants to accelerate the development of innovations within the Open Diagnostics ecosystem. Open Diagnostics promises this acceleration, among other things through open innovation via the existing network in the region. Van Gammeren: "We have been located in Innolab Agrifood on Campus Groningen since March 2021. This is an open innovation facility where there is room for startups to develop further and where there are opportunities for collaboration with other tenants. The first collaboration has already been concluded with EV Biotech. Our neighbors at EV Biotech can produce material for us, which we first outsource across the border ".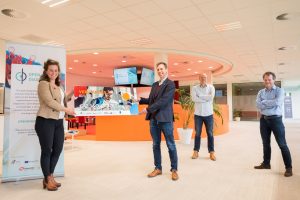 Image: Hedi Koning (Open Diagnostics), Matthew Burton (Detact Diagnostics) & Ton Vries (Open Diagnostics), Wouter van Gammeren (Detact Diagnostics)